Products tagged with 'enrichment toy for cats'
- Experience the power of highly potent catnip infused into our cat toys, providing an irresistible and stimulating playtime experience for your furry companion. - Rest easy knowing that our cat toy is crafted with the utmost care, using safe and non-toxic materials to ensure your cat's health and well-being. - Watch as your cat engages in playful hunting behavior with our toy, offering an ideal opportunity to satisfy their natural instincts and keep them entertained. - Please note that the product color may slightly vary due to different lighting sources or monitor settings, adding a touch of uniqueness to your cat's toy collection.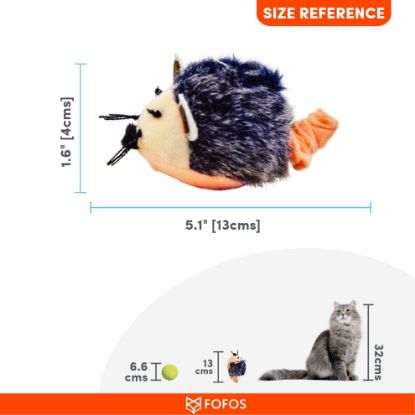 A cute battery-operated cat toy that mimics an actual mouse with its life-like features including the plush fabric, sound and motion. Imported US grade catnip powder inside. Pull string for motion and shake for mouse sounds. Recommended for small pet kittens as well as for older cats. Fun fact: 66% of all cats carry the "Catnip Gene" that makes them react favourably to the calming and stress-reducing effects of catnip herb. Not sure if your cat carries this gene? Try this catnip toy to find out!